Posts for tag: pregnancy
By Marconi Dental & Specialty Group
January 19, 2019
Pregnancy is a very special and exciting time for expectant women and their families. At this time, many moms-to-be make careful choices to try and do what's best for themselves and their babies. Wondering what's the right way to take care of your oral health when you're expecting? Here are answers to a few of the most common questions about dental care during pregnancy.
Q: Does pregnancy make a woman more susceptible to dental problems?
A: Yes. Pregnancy causes big changes in the levels of certain hormones, and these in turn have a powerful influence on your body. For example, many expectant moms experience food cravings and morning sickness at certain times. Changing hormone levels can also affect your oral health in various ways, including making your gums tender, swollen, and highly sensitive to the harmful bacteria in plaque.
Q: What are "pregnancy tumors" in the mouth?
A: These are benign (non-cancerous) overgrowths of tissue that sometimes develop on the gums during the second trimester. Often appearing between the teeth, these swollen reddish growths are thought to be caused by plaque bacteria. They sometimes go away on their own when pregnancy is over, but may be surgically removed if they don't.
Q: Is it normal to have bleeding gums during pregnancy?
A: It's not uncommon, but it does indicate that you need to pay careful attention to your oral hygiene at this time. Pregnancy hormones can cause the tiny blood vessels in your gums to become enlarged; when plaque bacteria are not effectively removed from the mouth, the gums may become inflamed and begin to bleed. This condition is often called "pregnancy gingivitis." If left untreated, it can progress to a more serious form of gum disease called periodontitis. That's one reason why regular brushing and flossing are so important during pregnancy — as are routine professional cleanings.
Q: Is it safe to have dental cleanings and checkups during pregnancy?
A: Yes; in fact, it's a very good idea to have at least one. Studies have shown that women who receive dental treatment during pregnancy face no more risks to their developing babies than those who don't. On the other hand, poor oral health is known to cause gum disease, and is also suspected of being linked to adverse pregnancy outcomes. Routine dental exams and professional cleanings can help you maintain good oral health and avoid many potential problems during this critical time.
Q: Should I postpone more complicated dental work until after I have a baby?
A: It depends. A study recently published in the Journal of the American Dental Association found it was safe for pregnant women to have routine procedures like fillings, root canals, and extractions, even if they require local anesthesia. So treatments that are essential to an expectant mother's health shouldn't be put off. However, if you're planning to have cosmetic dental work, it might be best to err on the side of caution and wait until after your baby is born.
Have more questions about oral health during pregnancy? Contact our office or schedule a consultation — and be sure to let us know that you are pregnant, so we can make sure you get the extra attention you need. You can learn more in the Dear Doctor magazine article "Pregnancy and Oral Health."
By Marconi Dental & Specialty Group
January 29, 2018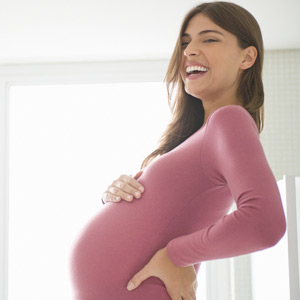 There are many health concerns when you're pregnant. And not just for you — what you eat, how you sleep or what medications or supplements you're taking all have an effect on your baby.
With so many concerns, it's easy to neglect caring for your teeth. But like other health issues, dental care affects both you and your baby and their future teeth and gum health. For both your sakes taking care of your mouth is a must.
For one thing, you're more susceptible during pregnancy to periodontal (gum) disease, an infection caused by bacterial plaque built up on teeth surfaces due to ineffective hygiene. It's believed hormonal changes increase the risk of gingivitis, the inflammation of infected gum tissues, common to expectant mothers.
Gum disease is a serious matter for anyone because of the increased risk of tooth loss. But there's another potential risk for expectant mothers: the bacteria that causes gum disease can pass through the placenta to the fetus. This can stimulate an inflammatory response from the mother that may result in a pre-term delivery and low birth weight.
There are some things you can do to protect your dental health and your baby's future health. Maintain a healthy diet with a wide range of whole foods: whole grains, fruits, vegetables, proteins and dairy products. Your doctor may also recommend iron and other supplements to reduce anemia. For the baby's dental development, be sure you're taking in sufficient calcium in your diet as well as other vitamins and nutrients. And although it's common to develop carbohydrate cravings, limit your consumption — especially sugar. Carbohydrates increase the levels of bacteria that cause tooth decay and gum disease.
Above all, practice consistent daily hygiene by brushing at least twice a day and flossing once. Be sure to visit us at least twice a year for cleanings and checkups. If you notice bleeding, swelling or redness of your gums (signs of gum disease) contact us as soon as possible.
A little extra attention to your teeth and gums while you're expecting can make a big difference in the health of your own teeth and gums, as well as build a strong foundation for your child's future oral health.
If you would like more information on dental health and care during pregnancy, please contact us or schedule an appointment for a consultation. You can also learn more about this topic by reading the Dear Doctor magazine article "Pregnancy and Oral Health."
By Family Dental Specialty Group
August 01, 2014
During Nancy O'Dell's interview with Dear Doctor magazine, the former co-anchor of Access Hollywood and new co-anchor of Entertainment Tonight could not resist her journalistic instincts to turn the tables so that she could learn more about a baby's oral health. Here are just some of the facts she learned from the publisher of Dear Doctor about childhood tooth decay, pacifier use and what the right age is for a child's first visit to the dentist.
Many moms-to-be and parents or caregivers of young children are surprised to learn that around age 1 is the ideal time to schedule a child's first visit to the dentist. This visit is crucial because it sets the stage for the child's oral health for the rest of his or her life. It can also be quite beneficial for the parents, too, as they can be reassured that there are no problems with development and that the child's teeth appear to be growing properly. And if by chance we identify any concerns, we will discuss them with you as well as any necessary treatment strategies.
Nancy also wanted to learn more about pacifiers — specifically, if it is a good idea for parents to encourage their use. Obviously, children are born with a natural instinct for sucking, so giving a child a pacifier seems totally harmless. Pacifiers definitely have some advantages; however, if used for too long — past the age of 18 months — they can cause long-term changes in the child's developing mouth (both the teeth and the jaws).
Another problem that parents and caregivers need to be aware of is baby bottle syndrome. This is a condition that develops in children who are perpetually sucking on a baby bottle filled with sugary fluids such as formula, fruit juices, cola or any liquids containing a large amount of sugar, honey or other sweeteners. It is important to note that a mother's own breast milk or cow's milk are good choices for feeding babies, as they both contain lactose, a natural sugar that is less likely to cause decay. However, if these liquids are placed in a bottle and a child is allowed to suck on it throughout the night, they, too, can promote tooth decay. The key is to feed your child properly while avoiding all-night feedings and liquids loaded with sugar.
To read the entire Dear Doctor magazine article on Nancy O'Dell as well as to learn more about a baby's oral health, continue reading "Nancy O'Dell — A life full of smiles." Or you can contact us today to schedule an appointment so that we can conduct a thorough examination, listen to your concerns, answer your questions and discuss any necessary treatment options.