Posts for tag: bridgework
By Marconi Dental & Specialty Group
April 14, 2018
Not long ago the dental bridge was the alternative treatment of choice to partial dentures for restoring lost teeth. Over the last few decades, however, dental implants have nudged bridgework out of this premier spot.
That doesn't mean, though, that bridgework has gone the way of the horse and buggy. In fact, it may still be a solid restorative alternative to partial dentures for certain people.
A traditional bridge consists of a series of porcelain crowns affixed to each other like pickets in a fence. The end crowns are fitted onto the teeth on either side of the empty tooth space; known as abutment teeth, they support the bridge. The crowns in the middle, known as pontics (from the French for "bridge"), replace the teeth that have been lost.
Bridges have been an effective and cosmetically pleasing method for tooth replacement for nearly a century. To achieve those results, though, a good portion of the abutment teeth's structure must be removed to accommodate the crowns. This permanently alters these teeth, so they'll require a restoration from that point on.
Dental implants, on the other hand, can be installed in the missing space without impacting any neighboring teeth. What's more, implants provide greater support to the underlying bone than can be achieved with bridgework.
But not everyone is a viable candidate for implants, and ironically the reason most often has to do with the bone. If a patient has suffered significant bone volume loss, either because of disease or the long-term absence of the natural teeth, there may not be enough bone to properly support an implant. Unless we can adequately restore this lost bone volume through grafting, we'll need to consider another type of restoration.
That's where bridgework could be a viable option for patients in this or similar situations. With continuing advances in materials and new applications, the traditional bridge still remains an effective and important means to restore a smile marred by missing teeth.
If you would like more information on dental restoration options, please contact us or schedule an appointment for a consultation. You can also learn more about this topic by reading the Dear Doctor magazine article "Crowns & Bridgework."
By Family Dental Specialty Group
April 02, 2014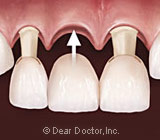 When a tooth is lost, it's important to restore your mouth to its proper function and appearance with a permanent replacement, such as a dental implant or a bridge. Recently, the implant system has received the lion's share of attention (for some good reasons); however, in certain situations, dental bridgework offers a viable alternative. What would cause one method to be favored over the other?
In general, implants are now considered the gold standard for tooth replacement. They have the highest success rate (over 95 percent), last the longest (quite possibly the rest of your life), and don't affect the integrity of adjacent teeth. Bridges, by contrast, require the removal of tooth structure from adjacent teeth, which can potentially compromise their health. Yet implants aren't necessarily ideal for every situation. When might a bridge be preferred?
Some people don't have the proper quantity or quality of bone in the jaw to support an implant; or, they may have anatomical structures (nerves or sinuses) located where they would interfere with an implant. It is possible in some cases to work around these obstacles with bone grafts, or by placing implants in alternate locations; in other cases, a bridge may be a better option.
While most tolerate the implant process quite well, a few people aren't good candidates for the surgical procedure required to place an implant. Certain systemic diseases (uncontrolled diabetes, for example), the use of particular medications, or a compromised immune system may make even minor surgery an unacceptable risk. In these cases, a decision may be made after consulting with an individual's other health care providers. Additionally, a few behaviors or lifestyle issues, like heavy smoking or a teeth-grinding habit, tend to make implants have a less favorable success rate.
There are also a few circumstances that could argue in favor of a bridge — for example, if you already have a need for crowns on the teeth adjacent to the gap, it can make the process of getting bridgework easier and more economical. Financial issues are often an important consideration in planning treatment — but it's important to remember that while bridges are generally less expensive than implants in the short term, the much longer expected life of implants can make them more cost-effective in the long run.
If you have questions about dental implants or bridgework for tooth replacement, please call our office to arrange a consultation. You can learn more in the Dear Doctor magazine article "Crowns & Bridgework."