Posts for: November, 2020
By Marconi Dental & Specialty Group
November 19, 2020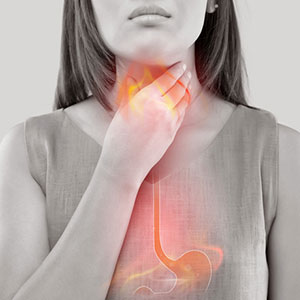 Heartburn is a big problem: Each year we Americans spend around $10 billion on antacid products, twice as much as for over-the-counter pain relievers. It's an even bigger problem because many indigestion sufferers actually have acid reflux or GERD (gastroesophageal reflux disease), a chronic disease that can cause physical harm—including to teeth.
That's why we've joined with other healthcare providers for GERD Awareness Week, November 17-23, to call attention to the causes and consequences of this disease. In addition to the harm it poses to the esophagus (the "tube" leading from the mouth to the stomach through which food passes), GERD could also damage your teeth to the point of losing them.
GERD is usually caused by the weakening of the lower esophageal sphincter, a ringed muscle located at the junction between the esophagus and the stomach. It acts as a "one-way valve" allowing food into the stomach, but not back into the esophagus. If it weakens, powerful stomach acid can come back into the esophagus and possibly even the mouth. The latter scenario poses a danger to teeth's protective layer of enamel.
Although tough and durable, enamel softens after prolonged contact with acid. Oral acid isn't all that unusual—acid levels typically rise right after eating, causing a temporary softening of enamel. Our saliva, however, goes to work to bring down those acid levels and stabilize enamel.
But if stomach acid enters the mouth because of GERD, the increased acidity can overwhelm saliva's ability to neutralize it. This can lead to enamel erosion, tooth decay and ultimately tooth loss. The enamel damage can be so pronounced that dentists are often the first to suspect GERD.
If you're diagnosed with GERD, here's what you can do to protect your teeth.
Manage your GERD symptoms through medication, avoidance of spicy/acidic foods, alcohol, caffeine or tobacco products, and maintaining an optimum weight;
Stimulate saliva by drinking more water, using saliva boosters, or (with your doctor's consent) changing from medications that may be restricting saliva flow;
Speak with your dentist about strengthening your enamel with special toothpastes or mouthrinses containing extra fluoride or amorphous calcium phosphate (ACP).
You should also brush and floss daily to lower your risk of dental disease, but with one caveat: Don't brush your teeth during or immediately after a reflux episode, as you might remove microscopic bits of softened enamel. Instead, rinse your mouth with water mixed with a half-teaspoon of baking soda (an acid neutralizer) and wait about an hour to brush. The extra time also gives saliva time to further neutralize any remaining acid.
GERD can be unpleasant at best and highly destructive at worst. Don't let it ruin your teeth or your smile.
If you would like more information about GERD and dental health, please contact us or schedule a consultation. To learn more, read the Dear Doctor magazine articles "GERD and Oral Health" and "Dry Mouth."
By Marconi Dental & Specialty Group
November 09, 2020
The monarchs of the world experience the same health issues as their subjects—but they often tend to be hush-hush about it. Recently, though, the normally reticent Queen Elizabeth II let some young dental patients in on a lesser known fact about Her Majesty's teeth.
While touring a new dental hospital, the queen told some children being fitted for braces that she too "had wires" once upon a time. She also said, "I think it's worth it in the end."
The queen isn't the only member of the House of Windsor to need help with a poor bite. Both Princes William and Harry have worn braces, as have other members of the royal family. A propensity for overbites, underbites and other malocclusions (poor bites) can indeed pass down through families, whether of noble or common lineage.
Fortunately, there are many ways to correct congenital malocclusions, depending on their type and severity. Here are 3 of them.
Braces and clear aligners. Braces are the tried and true way to straighten misaligned teeth, while the clear aligner method—removable plastic mouth trays—is the relative "new kid on the block." Braces are indeed effective for a wide range of malocclusions, but their wires and brackets make it difficult to brush and floss, and they're not particularly attractive. Clear aligners solve both of these issues, though they may not handle more complex malocclusions as well as braces.
Palatal expanders. When the upper jaw develops too narrowly, a malocclusion may result from teeth crowding into too small a space. But before the upper jaw bones fuse together in late childhood, orthodontists can fit a device called a palatal expander inside the upper teeth, which exerts gentle outward pressure on the teeth. This encourages more bone growth in the center to widen the jaw and help prevent a difficult malocclusion from forming.
Specialized braces for impacted teeth. An impacted tooth, which remains partially or completely hidden in the gums, can impede dental health, function and appearance. But we may be able to coax some impacted teeth like the front canines into full eruption. This requires a special orthodontic technique in which a bracket is surgically attached to the impacted tooth's crown. A chain connected to the bracket is then looped over other orthodontic hardware to gradually pull the tooth down where it should be.
Although some techniques like palatal expanders are best undertaken in early dental development, people of any age and reasonably good health can have a problem bite corrected with other methods. If you are among those who benefit from orthodontics, you'll have something in common with the Sovereign of the British Isles: a healthy, attractive and straighter smile.
If you would like more information about orthodontic treatment options, please contact us or schedule a consultation. To learn more, read the Dear Doctor magazine article "The Magic of Orthodontics."