Posts for: November, 2016
By Marconi Dental & Specialty Group
November 25, 2016
When is the best time to floss your teeth: Morning? Bedtime? How about: whenever and wherever the moment feels right?
For Cam Newton, award-winning NFL quarterback for the Carolina Panthers, the answer is clearly the latter. During the third quarter of the 2016 season-opener between his team and the Denver Broncos, TV cameras focused on Newton as he sat on the bench. The 2015 MVP was clearly seen stretching a string of dental floss between his index fingers and taking care of some dental hygiene business… and thereby creating a minor storm on the internet.
Inappropriate? We don't think so. As dentists, we're always happy when someone comes along to remind people how important it is to floss. And when that person has a million-dollar smile like Cam Newton's — so much the better.
Of course, there has been a lot of discussion lately about flossing. News outlets have gleefully reported that there's a lack of hard evidence at present to show that flossing is effective. But we would like to point out that, as the saying goes, "Absence of evidence is not evidence of absence." There are a number of reasons why health care organizations like the American Dental Association (ADA) still firmly recommend daily flossing. Here are a few:
It's well established that when plaque is allowed to build up on teeth, tooth decay and gum disease are bound to follow.
A tooth brush does a good job of cleaning most tooth surfaces, but it can't reach into spaces between teeth.
Cleaning between teeth (interdental cleaning) has been shown to remove plaque and food debris from these hard-to-reach spaces.
Dental floss isn't the only method for interdental cleaning… but it is recognized by dentists as the best way, and is an excellent method for doing this at home — or anywhere else!
Whether you use dental floss or another type of interdental cleaner is up to you. But the ADA stands by its recommendations for maintaining good oral health: Brush twice a day for two minutes with fluoride toothpaste; visit your dentist regularly for professional cleanings and checkups; and clean between teeth once a day with an interdental cleaner like floss. It doesn't matter if you do it in your own home, or on the sidelines of an NFL game… as long as you do it!
If you would like more information about flossing and oral hygiene, contact us or schedule an appointment for a consultation.
By Marconi Dental & Specialty Group
November 10, 2016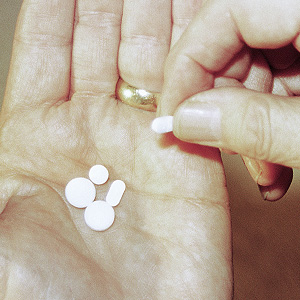 Aspirin has been a popular pain reliever and fever reducer for over a century. Its effect on the clotting mechanism of blood, however, has led to its widespread and often daily use in low dose form (81 mg) to help reduce the chances of heart attack or stroke in cardiovascular patients. While this has proven effective for many at risk for these conditions, it can complicate dental work.
Aspirin relieves pain by blocking the formation of prostaglandins; these chemicals stimulate inflammation, the body's protective response to trauma or disease. Aspirin reduces this inflammatory response, which in turn eases the pain and reduces fever. It also causes blood platelets to stop them from clumping together. This inhibits clotting, which for healthy individuals could result in abnormal bleeding but is beneficial to those at risk for heart attack or stroke by keeping blood moving freely through narrowed or damaged blood vessels.
Even for individuals who benefit from regular aspirin therapy there are still risks for unwanted bleeding. Besides the danger it may pose during serious trauma or bleeding in the brain that could lead to a stroke, it can also complicate invasive medical procedures, including many in dentistry. For example, aspirin therapy could increase the rate and degree of bleeding during tooth extraction, root canal or other procedures that break the surface of soft tissue.
Bleeding gums after brushing is most often a sign of periodontal (gum) disease. But if you're on an aspirin regimen, gum bleeding could be a side effect. A thorough dental examination will be necessary to determine whether your medication or gum disease is the root cause.
It's important, then, to let us know if you're regularly taking aspirin, including how often and at what dosage. This will help us make more accurate diagnoses of conditions in your mouth, and will enable us to take extra precautions for bleeding during any dental procedures you may undergo.
If you would like more information on the effects of aspirin and similar medications on dental treatment, please contact us or schedule an appointment for a consultation. You can also learn more about this topic by reading the Dear Doctor magazine article "Aspirin: Friend or Foe?"