Posts for: March, 2014
By Family Dental Specialty Group
March 18, 2014
Perhaps you've seen Nate Berkus on The Oprah Winfrey Show or watched his television program, The Nate Berkus Show. You may even have read his best-selling book, Home Rules: Transform the Place You Live Into a Place You'll Love. Regardless of where or how you discovered Berkus, you will surely have noticed his dazzling smile.
Berkus recently opened up about the facts behind his trademark smile during an interview with Dear Doctor magazine. First off, his smile is totally natural, as he never wore braces or had any cosmetic work, including porcelain veneers. However, Berkus does give credit to his childhood dentist for the preventative healthcare he received as a young boy. "I'm grateful for having been given fluoride treatments and sealants as a child," he said. Nate also shared the important flossing advice he learned from his dentist that he still follows today: "Floss the ones you want to keep." Berkus went on to say that he feels, "healthy habits should start at a young age."
And we totally agree! For this reason we have put together the following list of facts and oral hygiene tips:
Over 50% of plaque accumulation occurs in the protected areas between teeth — a place that may be difficult or even impossible to reach with a toothbrush.
A thorough brushing may take up to two minutes at first, and it may feel awkward as you reach some places in your mouth.
Remember, more is NOT always better! Brushing or flossing too hard can be damaging to your teeth and gums. And never saw back and forth with your floss.
To learn more about oral hygiene, including brushing and flossing techniques, you can continue reading the Dear Doctor article "Oral Hygiene Behavior - Dental Health For Life." Or you can contact us today to schedule an appointment so that we can conduct a thorough examination, review your brushing and flossing techniques, and discuss any questions you have as well as treatment options. As needed, we will work with you to teach you the proper brushing and flossing techniques so that you feel confident before you leave our office. And to read the entire interview with Nate Berkus, please see the Dear Doctor article "Nate Berkus."
By Family Dental Specialty Group
March 03, 2014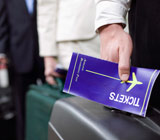 Traveling to faraway places is the stuff of daydreams for many people, and even more exciting when the dream comes true. But that excitement could be dampened should you ever be faced with the reality that your medical treatment options abroad can be quite different from what you enjoy at home in the United States.
Dental care is no exception. If you have a dental emergency abroad, you may be unpleasantly surprised at the lack of available care at the level of quality you're accustomed to at home. It's prudent, therefore, to take a few precautions before you go and do a little research on sources of dental care where you'll be traveling.
Before your trip you should schedule a dental visit, especially if you have some lingering issues that need attending; you should also be sure to plan this well enough in advance to allow time for any subsequent treatment and convalescence. It's especially important that you have damaged or cracked teeth treated, as well as complete any recommended root canals. You should also schedule a cleaning, and have any teeth with sensitivity issues checked for possible periodontal (gum) disease.
While you can significantly reduce your risk of a dental emergency before you travel, you can't eliminate it all together — a problem could still arise during your trip. It's advisable, then, that you bring along contact information for people or organizations that could assist you with obtaining medical or dental treatment. Your hotel concierge, the U.S. Consulate or Embassy, or even other Americans living or stationed in the country you're visiting can be helpful sources of information. You might also contact the International Association for Medical Assistance to Travelers (www.iamat.org) or, if in Europe, the American Dental Society of Europe (ADSE) (www.adse.co.uk) for recommendations on care.
A dental emergency during foreign travel could turn that dream vacation into a nightmare. You can lessen the chance of that by taking these few precautions before you go.
For a copy of A Traveler's Guide to Safe Dental Care, visit www.osap.org. If you would like more information on dental concerns when you are traveling, please contact us or schedule an appointment for a consultation. You can also learn more about this topic by reading the Dear Doctor magazine article "Traveling Abroad? Tips for Dealing with Dental Emergencies."