Posts for: August, 2013
By Family Dental Specialty Group
August 21, 2013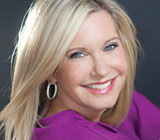 Though it's been a while since Olivia Newton-John sang her way into our hearts in the movie Grease, her smile is as radiant as ever. Today, Olivia is still singing, acting and busy with new ventures such as authoring a cookbook and raising money for the cancer center that bears her name in Melbourne, Australia. Whichever part of the world Olivia finds herself in, she protects that beautiful smile with an oral appliance that many find beneficial.
"I wear a nightguard to prevent wear on my teeth, custom-made by my dentist," Olivia recently told Dear Doctor magazine. "I love it!"
Olivia's device, also referred to as a bite (occlusal) guard, is designed for people who clench or grind their teeth at night, or during stressful periods. Made of thin, wear-resistant plastic, it is custom-made to fit exactly over your top teeth. This allows the bottom teeth to slide gently across the top teeth without biting into them. Not only does this prevent excessive tooth wear, it also helps relax the muscles of the jaw.
Grinding or "bruxing," as it's also called, can affect virtually any part of the oral system: the jaw joints or muscles, resulting in spasm and pain; the teeth themselves, resulting in wear, fractures or looseness; it can even cause an aching in the ears, head, neck or back.
If you are a teeth-grinder, you might not even know it unless a sleeping partner hears it or your dentist notices signs of wear. These habits are called "parafunctional" (para – outside, function – normal), meaning the biting forces it generates are well outside the normal range — sometimes as much as 10 times normal. So it's no wonder that damage to teeth can occur if they are not protected.
If you have any questions about grinding habits or nightguards, please contact us or schedule an appointment for a consultation. If you would like to read Dear Doctor's entire interview with Olivia Newton-John, please see "Olivia Newton-John." Dear Doctor also has more on "Stress & Tooth Habits."
By Family Dental Specialty Group
August 06, 2013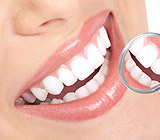 The "Hollywood Smile" — dazzlingly white — is associated in our society with youth, health and vitality. Achieving that smile through either professional or home whitening applications has become very popular.
Teeth become discolored or dull for a number of reasons. It can be something intrinsic with the teeth — changes in enamel or dental structure during development, inherited disorders, heavy exposure to fluoride or tetracycline, or changes in mineral structure or wear due to aging. It can also be extrinsic, resulting from environmental or lifestyle causes. Eating foods with tannins (red wine, coffee or tea) or carotene pigments found in plant foods like oranges or carrots, or using tobacco may all cause staining.
Most modern applications involve an oxidizing chemical (usually hydrogen peroxide) that bleaches the teeth. Professional applications in a dentist's office use high concentrations of hydrogen peroxide (usually 35 to 45%) applied directly to the teeth with control measures to protect the lips and gums. This type of application can lighten the color of teeth up to ten shades.
There are a number of home options too: whitening strips, "Paint on" or "Brush on" whitening, and even whitening gum. We can also provide you with a "Take home" kit that resembles the professional application but is generally less expensive. Although all these home applications are generally safe and effective, they typically take longer for results (several repeated days as opposed to about one hour for an office application), and not always to the same level of lightness as the professional.
Just about anyone can be a candidate for a whitening application. However, if you have thinner than normal dentin and more porous enamel, or suffer from gum recession or enamel loss, then whitening may increase tooth sensitivity. And, whitening is not a permanent solution: the brightness will fade over time, usually within a year. You can slow the fading by avoiding foods and habits that contribute to staining. It's also possible to touch up the initial whitening once or twice a year to extend the life of your new, bright smile.
If you would like more information on teeth whitening, please contact us or schedule an appointment for a consultation. You can also learn more about this topic by reading the Dear Doctor magazine article "Teeth Whitening."